Available for Serialization:
Holmes & Watson, LLC: Goodnight, My Love
Joseph Warren, copyright 2023
92,000 Words
________________________________

About the Author
________________________________
A tearful Greeting from WatsonandHolmes.com

As you have undoubtedly heard by now, Savannah Georgia and the whole of America, and dare I say it, the World, lost its most formidable detective, who by chance was African American, recently in a tragic event at Toccoa Falls as he struggled to bring to justice one of the world's greatest threats.

This site is dedicated to his memory, and you are encouraged to read-on to learn more about who he was...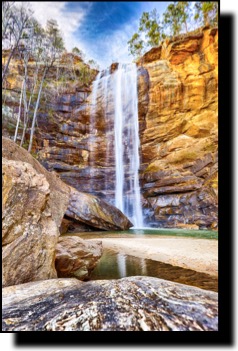 Toccoa Falls, Georgia, on the site of Toccoa Falls College.
The location of Holmes's likely final resting place.
He Passed into Glory!

A Greeting from Missus Hudson…


Hello. My name is Missus Hudson, and on behalf of Doctor Watson and myself I wish to thank you for visiting our site, Watson & Holmes, and to extend our thanks to all of you for the many written expressions of sympathy you have sent following Mister Holmes's death.

Your heartfelt expressions of grief are appreciated and taken to heart as we struggle with our recent loss of a very great man so central to our lives for so many years. This is especially so for my dear friend Doctor Watson, following more than forty years of affiliation with Mister Holmes after having met years before as young men at Howard University and maintaining an abiding and enduring friendship and partnership since.

As many of you know, Mister Holmes was not a religious man but he dearly held personal convictions that transcended those of many "religious" people I have known in my life, including during my many years with the Carmelites prior to my leaving that order several years past. I learned much from him about kindness and fulfillment, and as I consider it objectively, what I learned through him are not greatly unlike those I understood from the Scriptures: Many of Mister Holmes's deeds and actions followed those of the Apostles, in the way he would defer his personal interests to those of the many who sought his help throughout the years. He was, in a word, selfless placing reconciliation above all else.

In the last few months so much has happened since we lost Sherlock in that tragic accident over Toccoa Falls not far from us here in Savannah, Georgia, as he pursued that evil, evil man we knew early on as Ari Omit Yr, and it has left a vast abyss – a void – in our lives I fear we may never bridge. Doctor Watson and I feel a deep sense of loss and powerlessness against all the tomorrows wondering how we shall ever reconcile continued existence in his absence.

As some of you may know, Mister Holmes objected strenuously to the popularity of Social Media, and was forever resistant to the development of a site such as this, but, following his death, Doctor Watson believed that it would offer a fitting memorial – a tribute – to the greatest detective the world has ever known. So, although Mister Holmes may be looking down from Heaven in dismay, we decided to pursue this means of communicating.

(Lest anyone think that following Mister Holmes's death Doctor Watson is seeking the superior position by offering his name first in this website address, let me assure you that this is not the case: It was more than twenty years ago that Doctor Watson first mentioned to Mister Holmes that a "web presence" would likely be very beneficial to their investigative efforts. At that time any number of opportunities to place Mister Holmes's name in the primary position were available.

Unfortunately, as Doctor Watson had predicted regarding the medium's popularity, few fitting site names remained at the time of Mister Holmes's demise and, so, we are posted as "Watson and Holmes" so that we may better maintain the all-important, most-known "dot-Com" designation. I apologize for this interruption, but I felt it was an important fact to bring forth. Please forgive me.)

As an aside, we have set up a Memorial Comments page which you may access at the forgoing link. There are also instructions on how you may offer your thoughts regarding our loss of Sherlock. Please feel free to open your hearts to us, and we shall post them as quickly as possible.

Now and by this means, let me introduce Doctor Watson who has struggled many weeks to find the words he felt most aptly conveyed his feelings:


Good day to you. My name is John Hamish Watson.


I am a medical doctor by profession, but career criminologist by design. With all modesty I may say that I was, and will always remain one of Sherlock Holmes's oldest and dearest friends, the self-same Holmes who changed my life in immeasurable ways.

In his memory I have recently completed a chronicle of our many cases together under the title of Holmes and Watson, LLC: Goodnight, My Love, copyright 2023.

Although the manuscript has been completed in a first-person narrative, it appears under the nom de plume, Joseph Richard Warren, after the great American Revolutionary War hero, Doctor Joseph Richard Warren, an historic personage of immense importance to me, being one of the very few White men at that time in our history who sought out the empathy and the cooperation of slaves and freemen alike in the battle for this country, treating all with unfailing equity and respect.

After arguing with Holmes for more than a score of years regarding the necessity to secure a web presence, I was always shunned. Now, as a memorial to my dearest friend, we have debuted this site in an effort to perpetuate remembrance of his life.

By the way, or "BTW" as we Social Mediaistas say, for the book's prelude I chose some words from my 1975 diary - the first I ever kept - at the start of my second year at Howard. You can read it here.

And, after being prodded relentlessly by Missus Hudson, I've uploaded a sample chapter for your to read. It is Chapter 3 and is, I think, exceptional, although I confess I am the author, as you know. You may read it here. Unlock it by typing in the number 3, just the digit, obviously, without additional symbols or the word, "number" since that is extraneous, although I'm certain you understand, I feel compelled to mention it, for as Freud would have said...

Sorry, I digressed.

To review the manuscript's outline, click the image of Holmes, below:


Thank you for your many thoughts and prayers, and know that I remain, most sincerely,

s/ John H. Watson, MD